I love living in Tokyo. I've been to 20+ countries, but no where else that's so… strange. Every corner you turn in Tokyo, there's a WTF-moment waiting to happen.
Since I've been here long enough, I get asked a lot: where should I go when I visit?
This is a light-hearted post that highlights local places that blew my mind. If you like traveling to countries to only do the weirdest things possible, you're in luck.
Many of these places in Part 1 are NSFW, so you might want to lower the brightness setting on your phone. These places are bizarre.
Alcatraz ER
Store Link / Location: Shibuya / (source)
Alcatraz ER is a prison hospital-themed restaurant that is vulgar in the best ways possible.
You go in, and there's off-season Halloween decorations everywhere. As soon as the staff see you, they shove you into an unclear, diagnosis machine. An alarm will sound and the staff diagnoses you with some awful disease. By the way, no enthusiasm on their part. Just a monotonous, "You have brain cancer. That's why you're stupid. Follow me to your prison cell."
LockUp's menu is full of psychopathic torture-porn. My friend got her drink in a baby bottle. I drank out of a severed manikin head.
Our "brain meat" was served in one of those surgery bowls that usually handle organs.
Oh but it gets so much worse. You'll find an assortment of refreshing beverages, such as anal vibrator and tampon cocktails. Drooling, yet?
Every two hours, they turn off the all lights for their specialty show. The staff, dressed as monsters, will come scream bloody murder at you, while System of A Down rocks away in the background. Some guests would have their cells shaken, some get screamed at their face. Once, a werewolf just stared at me for a moment, punched me kind of hard in the arm, and then walked away. I couldn't believe it. I paid for dinner, only to have a werewolf slug me. In polite ol' Japan, of all places.
Enjoy the most unpleasant dining experience of your life.
Tori No Iru Cafe (Bird Cafe)
Store Link / Location: Asakusa
Bird Cafe is exactly what is sounds like: It's a caged cafe with a crap ton of birds.
I've been to Cat cafes, and they're a C- at best. The cats don't give a crap about you unless you have food. At Tori no Iru Cafe, the 60+ parakeets here love perching onto new things. Once you enter, you will feel like bird Jesus.
They'll also rest on your head and take cute little craps. Good thing the cafe hands out free ponchos.
They have adorable baby owls, too. There's something powerful about having an owl on your arm.
I would happily pass up a day at Disney Land for an hour here. It's a life changer. If you want to experience pure bliss for an hour, then put it on top of your Tokyo bucket list.
Wild One: Vibrator Bar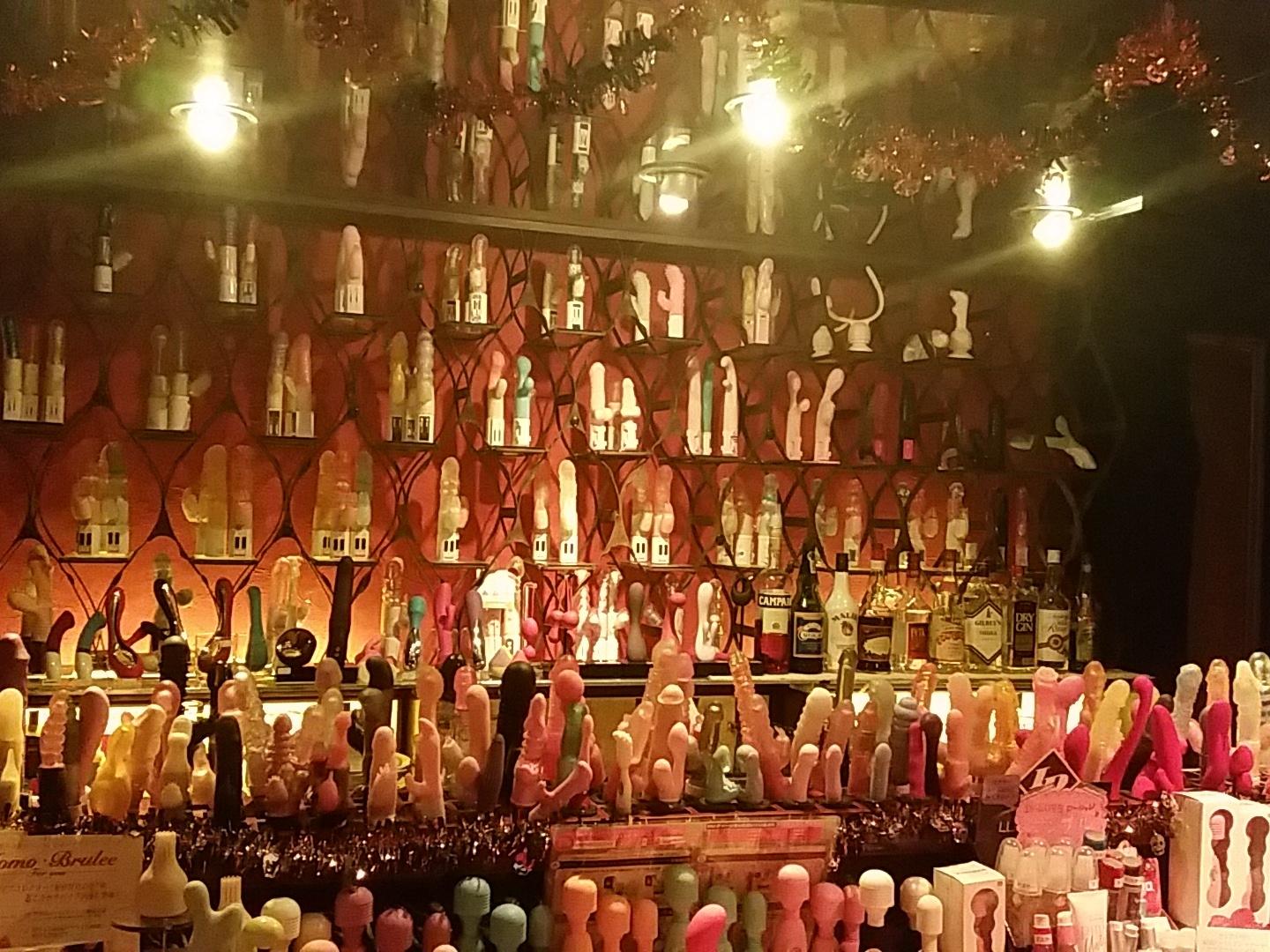 Store Link / Location: Shibuya / (source)
Wild One is a bar that has collected over 330 vibrators from across the world. That's right. Three hundred and thirty.
This is no sex shop. It's a bar for those that want to appreciate the grace of vibrators in the way one would with art. Here's how the store works: You go to the selection and choose a few vibrators that tickle your fancym bring it back to your seat, and play with them. Not sexually. That's prohibited. I guess they expect you to stare at it wiggling around in circles on your table. Pro tip: Clench three in each hand and pretended to be Wolverine. Your date will love it.
Everything here is a penis or vagina. The paintings are all vaginas. The lamps are vaginas. The main pillar is a big peener entering the lips of the ceiling (which is a vagina).
Don't believe me? Well, then here's the door.
(source)
And the inner entrance…
(source)
And the women's bathroom. Someone actually ordered that! And then someone actually made it!
(source)
And last but not least, the ceiling.

(source)
It's pretty intense, to say the least. Make sure you go with someone you're unmistakably comfortable with. Also note that only women or couples are allowed in. I don't blame them.
Final Words
I regret writing a post where vibrators are mentioned twice.
Part 2 will be PG, I promise.
Enjoy Tokyo.
I'm on Twitter @shoinwolfe if you ever want to talk.